How Igloofest Used Web3 Marketing to Engage 1000+ Festival Attendees
In this in-depth case study, we explore the strategy and results behind Igloofest's Yeti Hunt activation, an innovative web3 marketing campaign built in partnership with Mega Labs.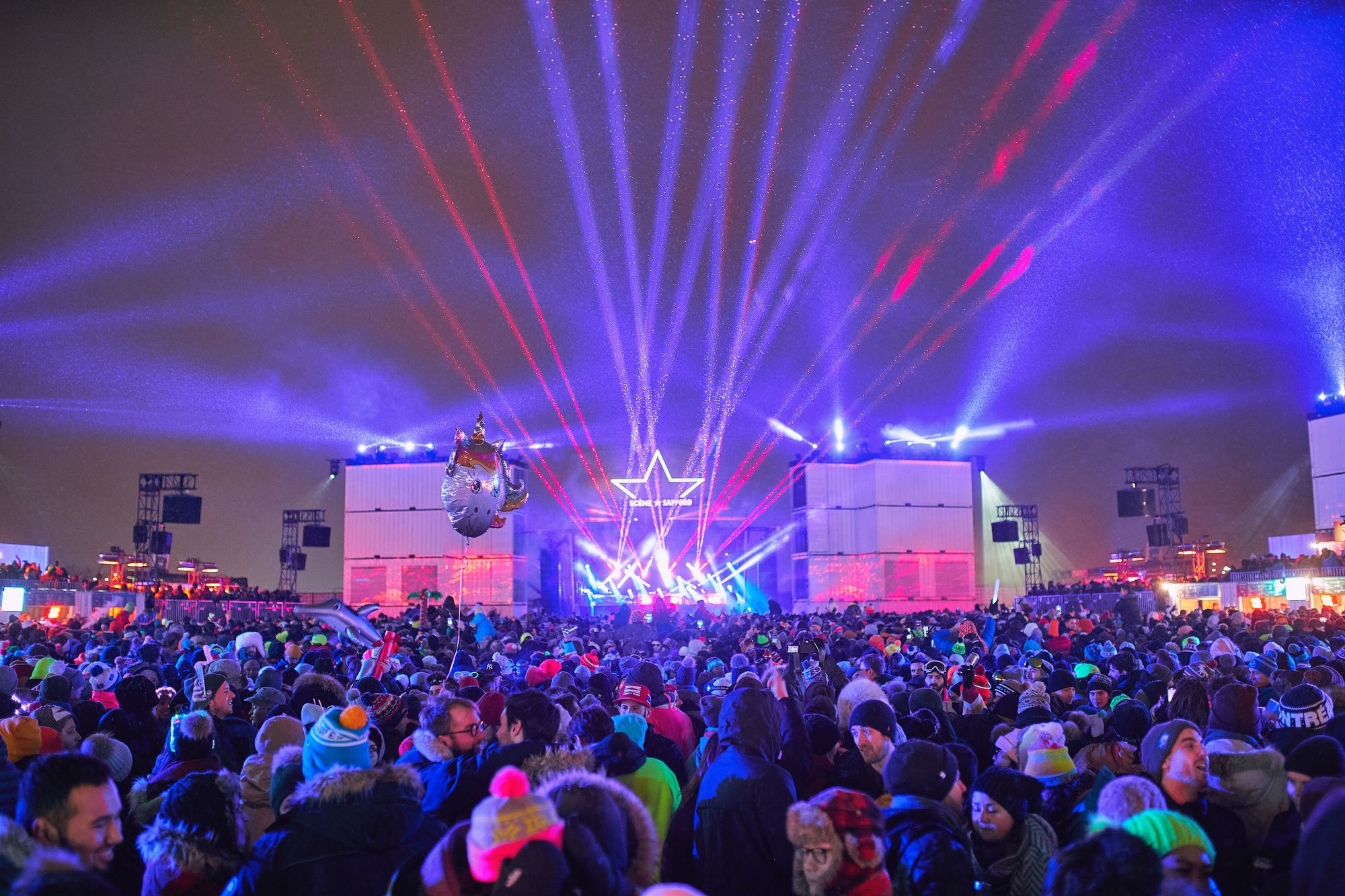 I. Introduction
Since 2007, Igloofest brings together thousands of music lovers every year to dance under the stars in Montreal's Old Port. Describing itself as the "coldest music festival" in the world, Igloofest isn't your typical event. It's an electronic music festival that takes place every weekend for four weeks straight—right in the middle of winter. Temperatures regularly hit -20C, sometimes even colder. And yet despite the cold (or maybe because of it), there's a unique vibe that takes place at Igloofest every winter.
Instead of battling winter, people celebrate it. They dress in tacky outfits and 80's ski gear, they warm up with mulled wine and roasted marshmallows by outdoor fires. Above all, they dance to some of the greatest artists in electronic music today, including the likes of Carl Cox, Diplo, Bonobo, Flume, Charlotte de Witte and more.
For their 15th anniversary season, Igloofest wanted to do something innovative that would engage their audience using new technology. They approached Mega Labs to develop a concept that would achieve a few key business objectives:
Celebrate the festival's 15th anniversary in a unique way
Engage their audience and reward their top participants
Drive repeat attendance to the festival
Increase fan engagement with on-site brand activations
Capture fan data for marketing purposes
Based on Igloofest's objectives, we developed a web3 marketing campaign for the festival called "Yeti Hunt" that combined elements of a scavenger hunt and rewards card to drive interaction with the activities planned on site.
A series of digital collectibles in NFT format were hidden across the festival site, claimable by festival goers via QR codes. Each user's crypto wallet became a passport of sorts, with each NFT collected serving as a "stamp" in the passport. Prizes were awarded on a weekly basis based on how many NFTs a user had collected.
The Yeti Hunt campaign turned out to be a successful experiment in web3 for Igloofest. It achieved the company's business objectives and demonstrated the potential of web3 marketing to engage audiences in new and immersive ways. This case study provides an in-depth analysis of the campaign and its results.
II. Objectives and Campaign Requirements
Before diving into the campaign itself, let's consider the festival's business objectives. Although the festival has been tremendously successful over the years, it still faced some challenges. As such, we started our engagement with the goal of understanding the specific challenges the festival was facing from a marketing perspective before diving into web3's role in the solution.
First, there was the issue of how attendees interacted with the festival site itself. The festival has two stages: a main stage and a side stage. It also has a number of brand activations and sponsored activities in an area dubbed the "Igloo-Village". These include a photo booth, a giant ice slide, aerobics classes, and fire-roasting marshmallows. These sponsored brand activations represent a significant portion of festival earnings, and allow the festival to keep ticket prices relatively low.
The problem for the festival was that most attendees would arrive on site having bought their ticket for a headliner and would spend most of their night at the main stage, without exploring the rest of the site. This made conversations with brand sponsors more difficult as it was hard to justify the cost of expensive sponsorship deals if few people were interacting with them.
Secondly, the festival faced the challenge of driving repeat attendance. It takes place each Thursday, Friday and Saturday over the course of four straight weeks. With capacity for close to 100,000 attendees over the course of a month, it was important for the festival to create an experience memorable enough that attendees would want to brave the cold and come back for another night out.
Finally, with 15 years of history, many of Igloofest's older attendees (including us!) have seen the concept multiple times over the years and it may not feel as special. There was also the issue of creating a unique experience for younger attendees using a format that could drive loyalty and excitement.
Beyond its business objectives, Igloofest presented some technical requirements as well. They wanted a concept that would be appealing to a broad, non-crypto audience and that kept complexity to a minimum. Considering how cold it can get, we couldn't afford to have fans playing with wallet addresses and seed phrases with their mitts on at -20°C, or trying to figure out how much ETH they needed to load into their wallets to pay for transaction fees. It had to be simple.
III. Campaign Design
Based on the objectives and technical requirements discussed with Igloofest, we developed a campaign around the idea of a scavenger hunt - a concept almost anyone can relate to. We hid a series of digital collectibles throughout the festival site as NFTs, and used prizes as an incentive for fans to find them. The collectibles were strategically located at each of the sponsored activities, inviting festival-goers to interact with them. The more NFTs they collected, the more chances they had to win one of the following prizes:
Grand prize: A trip for two to the Québec City edition of the festival, including travel by train, hotel accommodation, VIP tickets and Igloofest tuques.
Second prize: Five passes to Piknic Electronik 2023, Igloofest's summer festival brand.
Third prize: Guestlist to one of the Après-Ski club afterparties, every Friday and Saturday night after the festival.
Prizes were awarded on a weekly basis, with the winners being announced on social media to show how participation was being rewarded. We were also able to offer guestlist to Après-Ski events with lower ticket sales, which helped ensure that each of the afterparties were well attended.
In total, there were 21 different collectibles for fans to collect:
One type of collectible for each of the five sponsored activities presented on site
Each of the five collectibles types would be available in four different colors, one for each weekend of the festival.
In addition to these on-site collectibles, we created a special 15th anniversary NFT available online to everyone, regardless of whether they attended the festival or not. This NFT was released to make a bigger impact with the announcement and to encourage Igloofest's audience to create a crypto wallet before attending the festival.
For the collectibles themselves, we chose simple designs that reflected the festival's existing brand themes. Instead of art, photos or music, we produced animated graphic cards based on a character that fans could relate to: the yeti figure that appears both as an on-site mascot and throughout the festival's online messaging.
The collectibles could easily be claimed by scanning QR codes displayed on mid-sized panels positioned near each sponsored activity on site.

Finally, we chose IYK as our technical partner to handle the NFT minting process. IYK offers web3 tools that bridge the physical and digital worlds, and has powered drops for high-profile brands such as 88 Rising, Johnnie Walker, Porsche, and Coinbase. Their user-friendly flow made it easy for participants to claim their NFT by simply entering an email address, with the option to add crypto wallet details later. If a user did not already have a crypto wallet, they were given instructions to easily set one up on their phone. This gave users the option to use a wallet of their choice without being locked into a single platform. And with the NFTs being deployed on Polygon, we could cover the minimal transaction fees and offer the NFTs for free.
IV. Campaign Results

With 1,430 NFT claims and 1,027 individual participants, the Igloofest campaign exceeded our expectations.
Given that festival attendees were expected to perform a series of actions on their smartphones while standing outside in the middle of winter, we were unsure what to expect. We were pleasantly surprised however by the number of participants. There are now over a thousand people who've engaged with the Igloofest brand and who can be further activated through airdrops, NFT-gated content, and more. They will provide valuable data for future web3 programs in addition to forming an initial base that Igloofest can expand on in the years to come.
We were also impressed by the number of participants who successfully created a digital wallet and claimed the NFTs. Unlike activations from festivals like Coachella, where the wallet is abstracted away in favor of an email address, participants in this campaign had to use a crypto wallet they controlled to claim the NFT. Despite the added step, 51% of all participants claimed their NFT with an Ethereum address. For on-site participants, that number jumped to 74.12%.
On top of this, we saw on-site participants making an average of 3.43 claims each, or 4.2 claims if they had an Ethereum address, suggesting a high degree of engagement with the program. It seems like the IRL component made a big difference.
Figures
V. Conclusion

With over 1,000 participants and more than 1,430 claims, the Yeti Hunt campaign was a success for Igloofest and Mega Labs. Despite some challenges around cold temperatures and first-year awareness, we succeeded in designing a web3 experience catered to Igloofest's audience while meeting their business objectives. Attendees were incentivized to participate in the on-site activations, drawing more visibility to the festival's sponsors. They were also incentivized to engage more deeply with the festival experience, and besides collecting over a thousand new email addresses for marketing purposes, it was the start of Igloofest having the ability to identify who their biggest fans are. Finally, rewarding participants with guestlist to the festival's afterparties helped the festival succeed in hosting six to seven additional events every weekend.
This campaign highlights the opportunity that exists in web3 for live event marketers and showcases Mega Labs' marketing expertise and commitment to delivering results. If you want to chat about how to create new kinds of experiences for your fans using cutting-edge technology, reach out to us at info@mega-labs.io. We'd be happy to help you.